In the Words of Chesapeake
Culture Training
September 28, 2018
At Chesapeake Hospitality our culture is at the heart of everything we do. In an effort to celebrate our culture, this week we rolled out a culture training program for all of our properties. The goal of this training program is to ensure that all our associates are able to Experience What's Possible in two ways: possibilities with others and possibilities for ourselves and our future.
Our culture is rooted in service to others. This culture of serving others helps us experience possibility using the foundation of our core values. It's what creates our purpose – the WHY - WHY we do what we do every day. And that's simple: We are here to make good things happen for others. When we remember that what we do we do with honesty, integrity & humility, this allows us to create possibilities with our coworkers as well as our guests, possibilities in everyday connections, human connections - connections with one another and with our guests.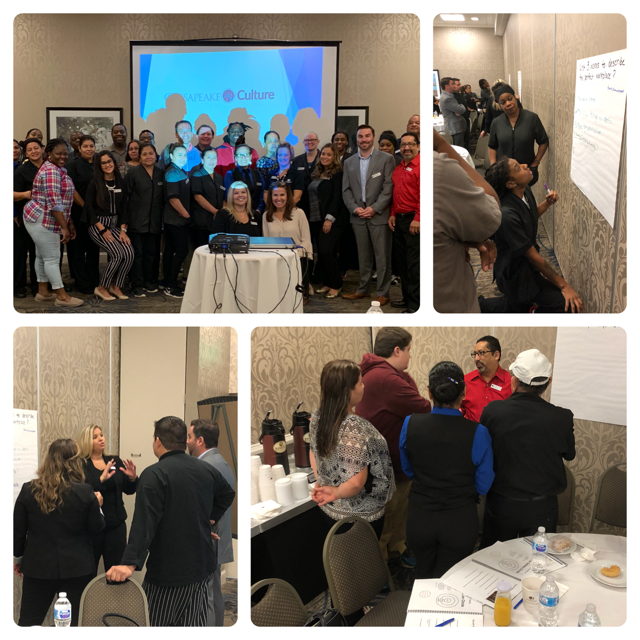 We also want our associates to see what possibility looks like for themselves, opportunities for personal and professional growth. This training allows time for contemplation and reflection to help us discover where our passions lie and the steps necessary to ensure this growth. During the training associates work independently as well as in groups, connecting with co-workers, sharing ideas and working towards a common goal.
Our culture training was rolled out at the DoubleTree by Hilton Hotel in Laurel, MD. Associates enjoyed working together and inspiring one another. We look forward to sharing this training with all of our properties, celebrating our culture and creating possibility with one another and for one another.
Share