In the Words of Chesapeake
Thankful Thursdays
November 20, 2017
As we approach Thanksgiving, our thoughts inevitably turn towards gratitude. It's easy to feel gratitude when you love what you do. You may be thankful for your job, the stability it affords you, the opportunity for growth, and for co-workers who appreciate and inspire you. It's one thing to reflect on this grateful feeling but the real benefits are discovered when we share this gratitude with others.
Team members at Holiday Inn Palm Beach Airport Hotel are taking their gratitude to the next level. They have incorporated "Thankful Thursdays" as a way to demonstrate their thanks to one another while simultaneously raising money for Give Kids The World.
Leana Smith, Human Resources Manager, shares their strategy: "We sell 'Thankful Thursday' cookie treat bags. To start, we had two types of cookie bags available (peanut butter and chocolate chip) and we bagged them with Hershey kisses. The bags are $3.00 each."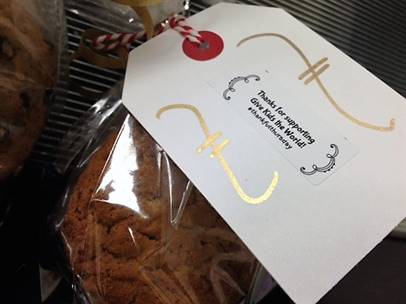 All proceeds from the sale of the cookie bags go directly to Give Kids The World. "Managers bought the bags to give to staff, and team members bought bags to bring home to their families," says Smith. "This was our first time doing this Thankful Thursday fundraiser. We hope to improve upon it and get more donations for Give Kids The World."
Reflecting on gratitude and then sharing that feeling with others couldn't be sweeter.
Share