In the Words of Chesapeake
Guest Loyalty Occurs When We Are Loyal to Our Guests
May 15, 2019
It is always our goal is to deliver flawless service 100% of the time but let's face it, mistakes happen. However, the way a mistake is handled can often turn a difficult situation into a positive one. A mistake can be the perfect opportunity to demonstrate our loyalty and commitment to our guests. This commitment and care is at the heart of everything we do. Our guests know this and it's what keeps them coming back; our loyalty to our guests fosters their loyalty to us.
No one understands this opportunity to demonstrate loyalty better than Darian Whalen, night auditor of the Crowne Plaza in Memphis. Darian was working the front desk when a flight attendant checked in very late one night. She was tired and just wanted to sleep. However, when she arrived at her room she realized that it was already occupied. She came back down to the front desk and informed Darian of the situation. There were no other rooms available so Darian called a hotel across the street, secured her a room there, then personally walked her over.
In the morning, Darian explained the situation to the General Manager who then called the airline to apologize. He was told that the airline was very pleased with the way the mistake was handled. In fact, because of this situation, the airline decided to renew their contract with Crowne Plaza.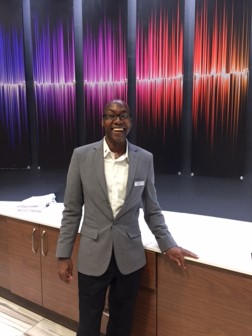 When asked about the situation Darian says, "Our airline is like family to us, I wanted to make sure our flight attendant felt that. As we walked over to the other hotel we talked about her day. This made her feel great, she had a long day. When we arrived to the other hotel, I talked with the night auditor there and made sure she was checked in properly and in a comfortable room. I arranged a shuttle for her the next day to bring her back to the hotel. This is what true hospitality is all about: caring for your guest."
The pride Darian feels toward his hotel does not go unnoticed by the guests. He says, "I am a representative of Crowne Plaza Hotel. Each guest should be treated well, this is why most guests come and stay with us again. I take pride in that, to see them again and have them remember me from the last time they stayed with us, making a lasting impression on the guest."
Darian believes all associates are vital to the Crowne Plaza's success, "Each one of us are important to the hotel, we all have a role to play. The guests are our priority. Nobody is bigger than the hotel. Love and respect for our guests will go a long way."
Share