In the Words of Chesapeake
Over The Edge for Give Kids The World
February 19, 2018
Children undergoing treatment for a life-threatening illness face daily battles of fear and anxiety. Bone marrow transplants, spinal taps, injections, transfusions – all are scary enough on their own but even the everyday occurrences for these children can be frightening. A routine blood draw incites fear when the nurse is someone you've never met. A trip to the grocery store wearing a mask produces anxiety when strangers stare. Yet through every situation and every day of their treatment, these children continue on in bravery.
Bravery is defined as "the quality or state of having or showing mental or moral strength to face danger, fear, or difficulty." In other words, to be brave we don't have to be fearless; we just have to face the fear. This is what I told myself as I stood at the top of the Hyatt Regency Hotel in Orlando, Florida.
On February 9, 2018, Give Kids The World held a fundraising event called Over The Edge. Participants who met the fundraising minimum would literally go over the edge and rappel down 32 stories of the Hyatt Regency, demonstrating bravery in the face of fear. The funds raised through this event would help children and their families step away from their lives of hospital visits and treatment to enjoy a vacation filled with happiness and hope.
It seemed like a great idea with two benefits: to raise money for children and their families and do something fun and exciting. Then I got to the roof. Suddenly the fun and excitement were replaced by anxiety and fear. All I kept thinking was, "Why? Why did I sign up for this? And why does it have to be 32 stories?"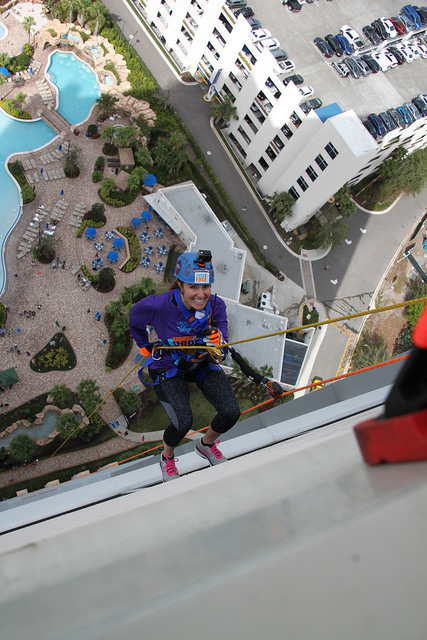 As I stood there on the edge, trying to focus on directions while also trying to rationalize why I would put myself in this position, it hit me: these children don't get a choice. No one asks them if they feel like facing fear; they wake up one day and simply have to do it. Full of fear and anxiety, I would continue on because this is what these children do every day. Realizing this was the motivation I needed to take that first step over the edge.
I remembered when my daughter was in treatment and had to take a horrible tasting medicine. Getting through it each night was very difficult with gagging and tears. Then one night when it was time, I handed her the medicine and once again saw the fear in her eyes. She must have seen the concern in mine because she said, "It's OK, Mommy. I got this." Then to herself she repeated, "I got this. I got this." After a deep breath, she took her medicine. Where this bravery came from, I'll never know but I witnessed it time and time again.
I thought of this scene and the many other situations children in treatment must endure as I made my way down the 32 stories. It's almost as if I had my daughter and other little children cheering me on, "It's OK, you got this. You got this." It was an incredible source of comfort to me and I even began enjoying myself.
The experience was unforgettable. I made it to the ground in one piece, had a great time, and was lauded for my bravery. I'll grant that I was able to continue on through fear and anxiety but let's face it, it was a total of 13 minutes (8 minutes if you don't count the almost 5 minutes it took me to actually take the first step over.) These children face 13 minutes of fear and anxiety several times a day for years during treatment. That is extreme bravery. They are true heroes and I am grateful to be able to support them along their courageous journey.
Click here for a video of the Over The Edge experience.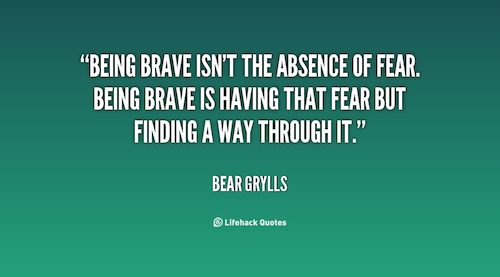 Share