In the Words of Chesapeake
With Support, Anything is Possible
October 26, 2018
On Saturday, October 13th we held our 2nd Annual "Happiness Inspires Hope" metric century bike ride in Baltimore. Our goal, while biking to and from six of our local Chesapeake Hospitality properties, was to raise enough money to send a family to Give Kids The World Village in Kissimmee, FL. Through this ride, we were not only able to reach and exceed that goal but we also realized that any goal is attainable when you have the right people beside you.
At the start of the ride it was 49 degrees and rainy, not the perfect start for a bike ride. But we headed out from the Hotel Indigo motivated and ready for the challenge. It soon became apparent that a few members of our group were having difficulty with the rental bikes they were using. Rather than becoming discouraged, they decided to periodically switch bikes to allow one another the opportunity for a better ride. I enjoyed listening to their friendly banter as they assisted one another along the first leg of the route.
After one of these riders finished this first leg, I asked him if he had fun despite the bike issues. His response, "Oh, yeah! That was remarkable. Next year I want to do the whole thing." He didn't mention the bike issues, instead he recounted the fun he had with the team.
The bikes weren't the only obstacle along the way; the rain and wind made parts of the journey a bit difficult. At mile 22, after having biked the past few miles in steady rain, personally - I was cold, uncomfortable and ready to be finished with the ride. I even suggested to the group (partially in jest, partially in earnest) that we might want to consider calling it a day given the weather. I was told that the forecast looked promising and that we should continue on. I trusted their judgment and figured I could probably go a just little bit further. Then the sun came out and as we rode along together, laughing and having a great time I decided I would probably reach my goal and make it to the end of the ride.
Then came Bonnie Branch Road. It is a 2.3 mile uphill climb. I started off fine, enjoying the beautiful scenery but about three quarters of the way up the hill I began to feel it - that nagging pain on the side of my knee. I knew exactly what it was because it happened last year on the same bike ride: Iliotibial Band syndrome. This happens when when the ligament extending from the pelvic bone to the shinbone becomes so tight that it rubs against the thighbone; it's typically caused by a repeated activity and will become increasingly more painful with activity. But last year it started at the 50 mile mark and this time I was not even 40 miles in. Even more frustrating was that I had been stretching my IT band every day for over two weeks in preparation for this ride. Thankfully there were only a few miles left until our break for lunch.
As we hopped back on the bikes after a restful lunch lunch, I was fairly certain that I would be fine - until we hit the first hill. Over the next 15 miles of rolling hills, as the pain increased, I wanted to end it. I kept thinking about calling the driver of our support vehicle and telling him to meet me somewhere for a rescue. But I never got a chance to voice these thoughts because one by one, my team members would ride next to me offering encouragement and motivation. By the time we reached the final rest stop before the last 7 miles, I knew I would finish the entire ride but only because of my team. The doubts I may have had of myself were no match for their confidence in me.
Jason Curtis, General Manager of Hotel Indigo, was also moved by the encouragement and support of the team. He said, "So, bike riding isn't really my thing. I was encouraged, not only because of GKTW, but because my co-workers were so excited about it, and continually spoke about last year's experience. While I knew it was going to be an "uphill" struggle, mostly because I'm out of shape and didn't train for the ride, I wanted to participate and help be a leg of the tripod, to support my team, who also supported me!"
I believe we all ended the day with an overwhelming sense of gratitude - not only for completing the ride and raising money for Give Kids The World, but for the opportunity to work with people who continue to motivate, encourage, and inspire one another on a daily basis.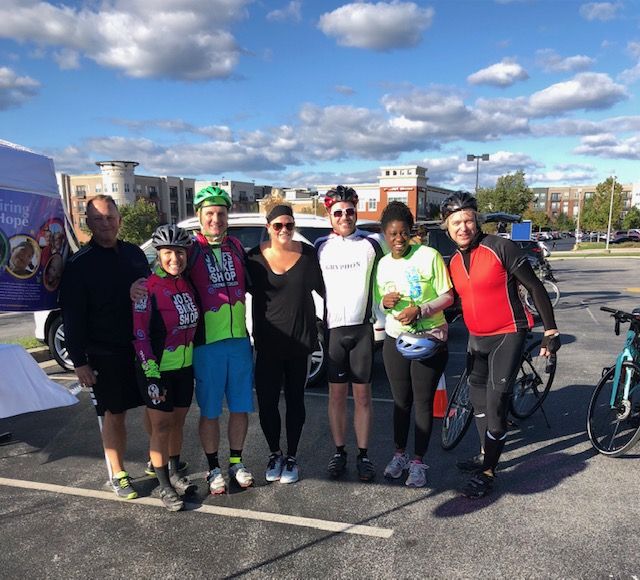 Share