In the Words of Chesapeake
Working Together to Make a Difference
May 23, 2018
We were going into our third day at this year's Accounting/HR Conference, held at the Crowne Plaza Jacksonville Airport. It would have been understandable for participants to become tired or begin to lose focus. Not this group. At Chesapeake Hospitality, teamwork is what invigorates us, drives us forward to reach our goals.
Our goal of this particular session was to create exciting, unique fundraising ideas for Give Kids The World.
Alone, any one of us could have developed a pretty good fundraiser, but working collaboratively, we were able to not only conceptualize good ideas, but develop these ideas into concrete plans that will be used to raise money for critically ill children and their families.
Last year we were able to send twenty families to Give Kids The World through the fundraising efforts at each of our properties. At this conference, we decided to tap into the creativity of some of the brightest minds in the business. The assignment was to create fundraising ideas that had not previously been used before in our company. Participants were given time to brainstorm on their own, then come together in groups to separate their ideas into categories. From there, the groups were asked to choose one idea to develop into a plan. Throughout the activity, groups worked together feeding off one another's creativity.
The end result was impressive. Each group presented their developed plan, one that will help us take our fundraising to a new level. We're excited to see these fundraising plans come to fruition. We look forward to offering even more families the opportunity for the vacation of a lifetime. Working together to achieve an end result is exhilarating and when the end result is helping families in need, the outcome is even more rewarding.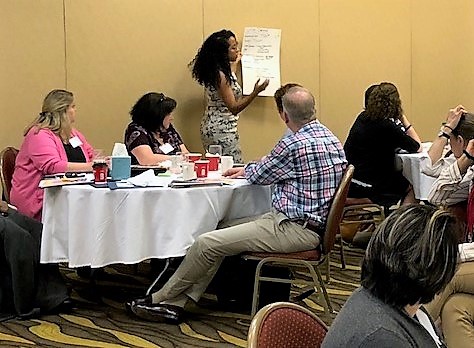 Share