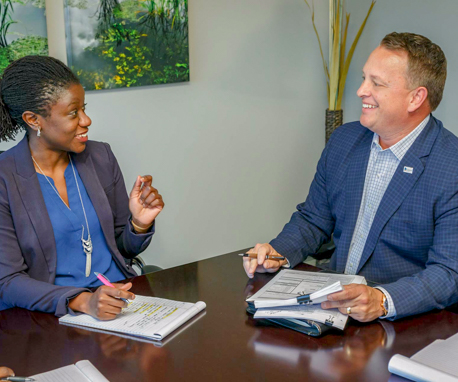 Let's Work Together
At Chesapeake Hospitality, we encourage all of our associates to "Experience What's Possible" for themselves and their careers while working for us. We believe in developing and training of our associates so they can grow within our company and strive to consider internal candidates before we hire externally. Our employees are eligible for promotions and transfers after 90 days of successful employment with us. We are proud to have many associates who have grown their careers in this way.
There are lots of reasons to join Chesapeake Hospitality but, to make things easy, we've narrowed it down to our top seven.
1. We're good at what we do
Chesapeake Hospitality is an award-winning hotel and restaurant management company with a rich history and an established track record of successfully operating full-service and select-service hotels and restaurants.
2. A history of stability and longevity
Founded in 1957 and privately held, we have established a deep and successful background of unparalleled repositioning, turnaround and development expertise. With more than 2,700 employees and 4,200+ rooms stretching from the East Coast to Texas and Oklahoma, we are among the most prestigious and highest-performing-hotel management firms in the nation.
3. We're still growing
Chesapeake Hospitality team members have tremendous opportunities for cross-property/brand training, transfers and career advancement.
4. You'll shine here
Chesapeake Hospitality offers several employee recognition programs, including:
Employee recognition programs
Hotel "Employee of the Month" Awards
Hotel "Employee of the Year" Award
Chesapeake Hospitality "Employee of the Year" Award
Incentive programs
Service awards
Holiday parties
In addition, most of our hotels participate and plan fun events for their associates, including parties and potlucks, discounts at local stores, holiday celebrations, teambuilding activities, and "Take Your Son/Daughter To Work" days.
5. At our core, it's all about having a strong culture and values
We provide a collaborative environment that supports individuality. We have established a solid reputation for valuing our fellow associates and fostering an inclusive and supportive workplace. Our philosophy and values are based on creating a results-oriented culture that is diverse, family-oriented and supportive.

Chesapeake Hospitality is guided by four core values, which have been guiding principles since the company's founding nearly six decades ago.
Honesty
Integrity
Humility
Community Involvement
6. Giving back makes everyone feel good
It is our goal to positively impact the communities we work in and give back to the world. Chesapeake Hospitality partners with Give Kids the World, a nonprofit whose mission is to fulfill the wishes of all children with life-threatening illnesses and their families from around the world to experience a memorable, joyful, cost-free visit to the Central Florida attractions, and to enjoy the magic of Give Kids The World Village for as long as there is a need.

Each Chesapeake Hospitality-managed property is also committed to its local community by adopting and partnering with a neighborhood charity. Charities to which we commit time and resources include the American Cancer Society, Wounded Warriors, House of Ruth and The Ronald McDonald House.
7. Great work deserves great pay (and benefits)
At Chesapeake Hospitality, we value your skills and strive to offer a competitive compensation package commensurate with your experience. In addition, we offer a comprehensive program of benefits designed to serve the diverse needs of our workforce. Eligible employees can select from the following:
Medical, dental, vision, prescription and life insurance
Vacation, sick and personal paid time off
401K retirement plan
Bereavement, jury, military and personal leave
Voluntary life insurance
Voluntary short-term and long-term disability
Hotel discounts for you and your family
Training and continuous education
Incentive/bonus opportunities based on company performance
Company designated holidays